MEETINGS
Monthly Business Meeting - 2nd Tuesday of the month at 7:00 pm
Officers' Planning Meeting - the Monday prior to the Monthly Business Meeting at 6:30 pm
(see Upcoming Events below for details)
Meetings are held at: St. Martha's Catholic Church, 30 Portland Road,
Kennebunk, Me 04043
Sunday K of C Sunday Adoration at Notre Dame Convent, Thornton St., Saco, ME.
Click HERE for sign-up schedule and information.
2019-2020 Kof C Council 12033 Officers

From left to right: Deacon Darrel Blackwell, John Bacon, Bill Butterfield, James Carmody (Dist. Warden),
Richard Shields, Timothy Gallant, Tom McAndrew , Al Gombar, James Saunders,
Jim Allen, Ray Jean, Carmine Dolce, Bill O'Connor , Kevin King, Anthony Brenna (Distict Deputy).
Click on the above image for Duties of Council Officers
Your Insurance Agent: Gregory White
EMail: gregory.white@kofc.org
Phone: 207-322-6514
Your Insurance Agent: Mark Adams
Phone: 207-590-5315
**********What's NEW**********
40 Days for Life see below

February 202

0

Reflection Below
Scripture Verse for March (Below)

See the Photo Gallery tab for 2019 Program for People with Disabilities Drive presentations


January Reflection (Below)

Hands Around the Capital Pro-Life Rally - Augusta Jan 18, 2020

(Below)



Scripture Verse for Next Meeting:
Proverbs chapter 17 and the questions are:
(verse 14) What are readers advised to do in a quarrel?
How should one act if locked in a disagreement with another?
(verse 16) How is wisdom acquired?
(verse 3) How does the Lord test the genuineness of our faith?
What else do we learn in proverbs about what God does with the human heart?
(suggests looking at the foot notes for help with the answers)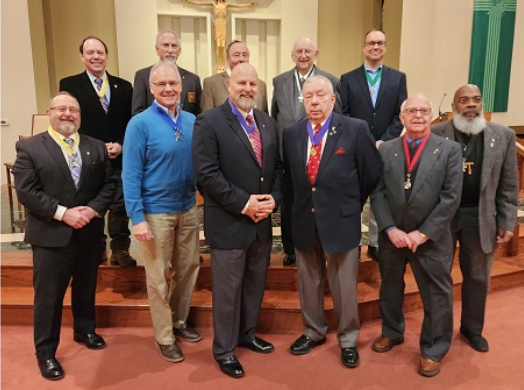 Respect Life Prayer
Dear God,
We see life cheapened every day through abortion and other forms of abuse, through terrorism, and other acts of violence, and through neglect of children, the poor, and the elderly.
In a world of plenty, we can forget that there is nothing more precious than human life.
Give us the grace to see how we can make a difference, and encourage change in our culture.
Inspire us with the stories of Mary and other mothers of unexpected pregnancies, who knew that every child is a gift of God's grace and is wanted by you in this world.
Encourage conviction in the hearts of those who do not yet know or understand that a desire for choice is no reason to end any life and that you desire that all life come only to a natural end in you.
Amen.
White Insurance Agency - Greg White
43 Elm Street, Waterville, Maine 04901
207-322-6514
gregory.white@kofc.org
Reflection for February 2020
"I've noticed that everybody that is for abortion has already been born."

Ronald Reagan

Lecturer, John Hersey