MEETINGS
Monthly Business Meeting - 2nd Tuesday of the month at 7:00 pm
Officers' Planning Meeting - the Monday prior to the Monthly Business Meeting at 6:30 pm
(see Upcoming Events below for details)
Meetings are held at St. Martha's Catholic Church, 30 Portland Road,
Kennebunk, Me 04043
Sunday K of C Sunday Adoration at Notre Dame Convent, Thornton St., Saco, ME.
Click HERE for a sign-up schedule and information.
2019-2020 Kof C Council 12033 Officers

From left to right: Deacon Darrel Blackwell, John Bacon, Bill Butterfield, James Carmody (Dist. Warden),
Richard Shields, Timothy Gallant, Tom McAndrew, Al Gombar, James Saunders,
Jim Allen, Ray Jean, Carmine Dolce, Bill O'Connor, Kevin King, Anthony Brenna (District Deputy).
Click on the above image for Duties of Council Officers
Your Insurance Agent: Gregory White
EMail: gregory.white@kofc.org
Phone: 207-322-6514
Your Insurance Agent is Mark Adams
Phone: 207-590-5315
Scripture Verse for May 2020 and Questions:
Proverbs 19: 3 "When a man's folly brings his way to ruin, his heart rages against the LORD."
Questions:
1. Have you ever become angry at God?
2. How did you resolve your anger?
Proverbs 19: 21. "Many are the plans in the mind of a man, but it is the purpose of the LORD that will be established."
Questions:
1. Compare Proverbs 19:21 with 19: 6. Do you think these verses are saying similar things?
Paragraphs 303-314 of the Catechism discuss the workings of Divine Providence, especially in situations of great physical and moral evil (for example natural disasters, etc.). Look especially at Paragraphs 303, 310, and 311. See below.
2. What trust do you place in God's Providence for yourself?
For others affected by such evils?
CCC 303: The witness of Scripture is unanimous that the solicitude (excessive concern) of divine providence is concrete and immediate; God cares for all, from the least things to the great events of the world and its history. The sacred books powerfully affirm God's absolute sovereignty over the course of events: "Our God is in the heavens; he does whatever he pleases." And so it is with Christ, "who opens and no one shall shut, who shuts and no one opens." (Revelation 3:7) As the Book of Proverbs states: "Many are the plans in the mind of a man, but it is the purpose of the LORD that will be established." (Proverbs 19: 21)
CCC 310: But why di God not create a world so perfect that no evil could exist in it? With infinite power God could always create something better. But with infinite wisdom and goodness God freely willed to create a world "in a state of journeying" toward its ultimate perfection. In God's plan this process of becoming involves the appearance of certain beings and the disappearance of others, the existence of the more perfect alongside the less perfect, both constructive and destructive forces of nature. With physical good there exists also physical evil as long as creation has not reached perfection.
CCC 311: Angels and men, as intelligent and free creatures, have to journey toward their ultimate destinies by their free choice and preferential love. They can therefore go astray. Indeed, they have sinned. Thus has moral evil, incommensurably more harmful than physical evil, entered the world. God is in no way directly or indirectly, the cause of moral evil. He permits it, however, because he respects the freedom of his creatures and, mysteriously, knows how to derive good from it:
"For almighty God . . ., because he supremely good, would never allow any evil whatsoever to exist in his works if he were not so all-powerful and good as to cause good to emerge from evil itself." St. Augustine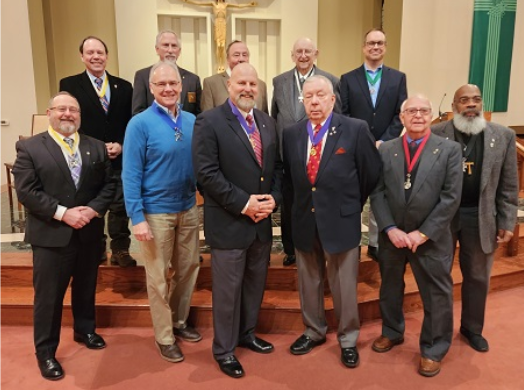 Respect Life Prayer
Dear God,
We see life cheapened every day through abortion and other forms of abuse, through terrorism, and other acts of violence, and through neglect of children, the poor, and the elderly.
In a world of plenty, we can forget that there is nothing more precious than human life.
Give us the grace to see how we can make a difference, and encourage change in our culture.
Inspire us with the stories of Mary and other mothers of unexpected pregnancies, who knew that every child is a gift of God's grace and is wanted by you in this world.
Encourage conviction in the hearts of those who do not yet know or understand that a desire for choice is no reason to end any life and that you desire that all life come only to a natural end in you.
Amen.
White Insurance Agency - Greg White
43 Elm Street, Waterville, Maine 04901
207-322-6514
gregory.white@kofc.org
Reflection for April 2020
We are living in unprecedented times. At this time of being separated from one another and from the sacrament of the Holy Eucharist it should kindle in our hearts a yearning and desire to be once again united to Christ in the sacrament. There have been prayers worldwide for the healing of our world and I hope you have had the opportunity to join in and continue to pray for all of humanity. If you have ever watched the mass on EWTN you have probably heard the Spiritual Communion Prayer. This prayer can be of some comfort:

My Jesus,
I believe that You
are present in the Most Holy Sacrament.
I love You above all things,
and I desire to receive You into my soul.
Since I cannot at this moment
receive You sacramentally,
come at least spiritually into my heart. I embrace You as if You were already there and unite myself wholly to You. Never permit me to be separated from You.

Lecturer, John Hersey