MEETINGS
Monthly Business Meeting - 2nd Tuesday of the month at 7:00 pm
Officers' Planning Meeting - the Monday prior to the Monthly Business Meeting at 6:30 pm
(see Upcoming Events below for details)
Meetings are held at St. Martha's Catholic Church, 30 Portland Road,
Kennebunk, Me 04043
Sunday K of C Sunday Adoration at Notre Dame Convent, Thornton St., Saco, ME.
Click HERE for a sign-up schedule and information.
2019-2020 Kof C Council 12033 Officers

From left to right: Deacon Darrel Blackwell, John Bacon, Bill Butterfield, James Carmody (Dist. Warden),
Richard Shields, Timothy Gallant, Tom McAndrew, Al Gombar, James Saunders,
Jim Allen, Ray Jean, Carmine Dolce, Bill O'Connor, Kevin King, Anthony Brenna (District Deputy).
Click on the above image for Duties of Council Officers
Your Insurance Agent: Gregory White
EMail: gregory.white@kofc.org
Phone: 207-322-6514
Your Insurance Agent is Mark Adams
Phone: 207-590-5315
The Beatification of Fr. Michael J McGivney < Click Here for more information.
Scripture Verse for

August & September

2020 and Questions
K of C Resume Meeting Guidelines from the Diocese of Portland - Click Here to View


Reflection for March 2020
Scripture Chapters for August and September:
Please read Proverbs Chapter 22 and Chapter 23
After reading the chapters please look at the following passages for study and reflection.
Chapter 22
"He who loves purity of heart, and whose speech is gracious, will have the king as his friend." Proverbs 22: 11
Questions:
1. What is "purity of heart"? Look at Matt 5:8.
The Catechism of the Catholic Church reference no. 2518 says:
"Pure in heart" refers to those who have attuned their intellects and wills to the demands of God's holiness, chiefly in three areas: charity, chastity or sexual rectitude, love of truth and orthodoxy of faith."
The pure in heart are single-minded in their devotion to God. They are not divided or conflicted in their allegiance to God, trying to please both God and human beings. They have only one goal and purpose-to please God, and so their heart is pure because of its undivided allegiance to God. (See Psalm 24: 3-4).
2. How does purity of heart benefit relationships with others as well as with
God?
"The rich rules over the poor, and the borrower is the slave of the lender
- Proverbs 22: 7
This proverb warns against incurring debt irresponsibly and unnecessarily.
In biblical times, one could literally become a slave to his creditor until the debt was paid off.
1. Have you ever taken out a loan unnecessarily?
2. What do you think this says about those who default on loans or those who foreclose on their mortgage?
Proverbs Chapter 23
"When you sit down to eat with a ruler, observe carefully what is before you, and put a knife to your throat if you are a man given to appetite."
- Proverbs 23: 1-2
1. What do you think this proverb is saying about someone who has a tendency to overeat?
2. How does the virtue of temperance come into play here? For both of these questions, read Sirach 31: 12-21.
"Let not your heart envy sinners, but continue in the fear of the Lord all the day."
- Proverbs 23: 17
Please read the following Catechism of the Catholic Church reference nos. 2538 - 2540. Then answer the questions that follow.
CCC 2538: The tenth commandment requires that envy be banished from the human heart. When the prophet Nathan wanted to spur King David to repentance, he told him the story about the poor man who had only one ewe lamb that he treated like his own daughter and the rich man who, despite the great number of his flocks, envied the poor man and ended by stealing his lamb (Read 1 Kings 21: 1-29). Envy can lead to the worst crimes. "Through the devil's envy death entered the world." (Wisdom 2: 24)
"We fight one another, and envy arms us against one another. . . . If everyone strives to unsettle the Body of Christ, where shall we end up? We are engaged in making Christ's Body a corpse . . . . We declare ourselves members of one and the same organism, yet devour one another like beasts."
- St. John Chrysostom
CCC 2539: Envy is a capital sin. It refers to the sadness at the sight of another's goods and the immoderate desire to acquire them for oneself. Even unjustly, when it wishes grave harm to a neighbor it is a mortal sin.
"St. Augustine saw envy as "the diabolical sin." From envy are born hatred, detraction, calumny, joy caused by the misfortune of a neighbor, and displeasure caused by his prosperity." - St. Gregory the Great
CCC 2540: Envy represents a form of sadness and therefore a refusal of charity; the baptized person should struggle against it by exercising goodwill. Envy often comes from pride; the baptized person should train himself to live in humility.
"Would you like to see God glorified by you? Then rejoice in your brother's progress and you will immediately give glory to God. Because his servant could conquer envy by rejoicing in the merits of others, God will be praised."
- St. John Chrysostom
Questions:
1. In ways do you envy the good fortune of others?
2. Of all the capital sins, why is envy singled out as "diabolical" (CCC 2539)?
3. How can one struggle against it?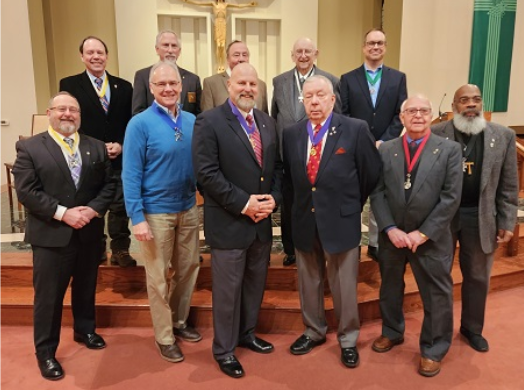 Respect Life Prayer
Dear God,
We see life cheapened every day through abortion and other forms of abuse, through terrorism, and other acts of violence, and through neglect of children, the poor, and the elderly.
In a world of plenty, we can forget that there is nothing more precious than human life.
Give us the grace to see how we can make a difference, and encourage change in our culture.
Inspire us with the stories of Mary and other mothers of unexpected pregnancies, who knew that every child is a gift of God's grace and is wanted by you in this world.
Encourage conviction in the hearts of those who do not yet know or understand that a desire for choice is no reason to end any life and that you desire that all life come only to a natural end in you.
Amen.
White Insurance Agency - Greg White
43 Elm Street, Waterville, Maine 04901
207-322-6514
gregory.white@kofc.org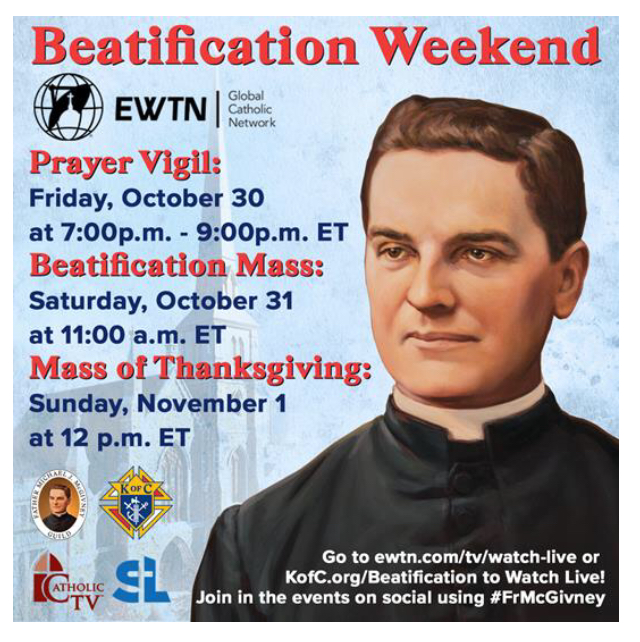 WATCH LIVE Father Michael McGivney's beatification takes place Saturday, Oct. 31 at 11a.m. ET at the Cathedral of St. Joseph in Hartford. Visit www.kofc.org/beatification and follow the hashtag #McGivney for a schedule of events, live streaming videos and more. Events will also be aired on EWTN, Canada's Salt + Light Television and the Catholic TV Network.